So glad I went to university for 6 years to qualify.
Apparently I needn't have bothers.
Secret Teacher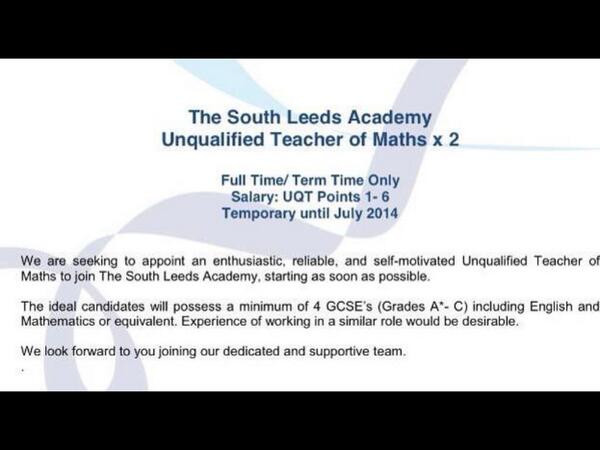 I wish I could say this was some kind of practical joke; that this had appeared on a whimsical website poking fun at government policy. However this is no joke, and nobody is laughing.
The South Leeds Academy are in need of two maths teachers, but not just any maths teachers. Those with any sort of qualifications to teach are deemed surplus to requirements. Indeed those who have the experience and expertise to assist pupils adequately are going to be immediately overlooked. They needn't apply. The South Leeds Academy epitomize a worrying transformation in the education system in recent years.
When Michael Gove removed the requirement for QTS in academies, the rhetoric was of professionals such as scientists, engineers, musicians and linguists teaching pupils. I doubt anybody could argue that the above advert isn't looking for professionals, for professionals are almost always qualified. There isn't even a mention of a…
View original post 301 more words